Club activities include regular meetings of Club members, plus a Christmas Party and monthly Soup Lunches for members and guests. There are also fund raising events at which the Club welcomes non-members. See what is coming up!
In addition, there are several committees that members can join. The After 5's meet on the 2nd Tuesday of each month, and the Aberdeen Artisans usually on the 4th Wednesday of each month.
For more information on the Club Service Committees and for the full calendar of all scheduled meetings, please go to the Members Only page.
Members – please mark your calendars! Watch the Newsletter and Behind the Pink Door for details about these and other Club events.
__________________________________________________________________
Upcoming Events 2018-2019
Put your dancing boots on and learn to line dance at the May Court Club's Line, Wine & Cheese fundraising event on Saturday, April 27, from 2:00-4:00. Come and enjoy a Line Dancing lesson, great aerobic exercise, refreshments and good ol' fashioned fun. Tickets are $50.00 and may be reserved by calling Mary at the office. Co-Convenors Kathy Yach and Sandra Ferguson look forward to seeing you on the dance floor.
The Association of May Court Clubs of Canada AGM is on May 3-4, 2019 in Chatham.
The Education and Convenor's Meeting is on Tuesday, May 14, 2019 at 1:00 pm.
The third annual Life Cycle Bike Ride will be held on Saturday June 1, 2019. The 50 KM ride will begin at the Club on Cameron Ave and proceed through the Experimental Farm, over the Champlain Bridge to the Aylmer Marina and return to the Club, followed by a barbecue in the Garden. Visit the Life Cycle Registration page for details and registration information.
The Annual General Meeting will take place at Tudor Hall on Wednesday June 5th, 2019. The meeting will begin at 11:00 followed by a sit-down lunch. The meal choices are beef or chicken and the price will be $37.00. Tudor Hall is located at 3750 Bowesville Road, just off Riverside Drive near Hunt Club. Detailed driving instructions will be available in the April newsletter. Please register your attendance and food choice with Mary before Thursday May 23th.
The May Court Club will hold a Porch Sale in conjunction with the Old Ottawa South Association's Porch Sale on Saturday, September 7 from 8:00 am – 3:00 pm. in the driveway at the Club. Click here for information about how and what to donate!
The May Court Club will hold a High Tea on Saturday, September 28, 2019 at The Club from 2:30 pm to 4:30 pm. featuring fancy sandwiches, scones, sweets and our Lady Aberdeen Tea. Our guest speaker is Sharon Cartstairs on "The Funny Side of a Political Life". Tickets are $40 each. Call Mary at the Club to reserve your tickets!
The Shepherd's Trainyards FunRaiser Charity Fashion Show will be held on Tuesday, November 26, 2019.
The Aberdeen Artisans Committee will hold the annual Christmas Craft Fair on Saturday November 9, 2019, from 10:00 to 2:00. Mark it on your calendar, and stay tuned for more information!
__________________________________________________________________
The May Court Library at the Civic campus of the Ottawa Hospital holds periodic Book Sales in the rotunda outside the hospital cafeteria. Donations of popular fiction and non-fiction books along with DVDs in the original cases would be welcome. Please, no self-help books or older biographies, manuals, textbooks, dictionaries, atlases, encyclopedia, professional or business books. Please call Marnie at 613-798-5555 ext.16717 to arrange drop off your donations and come to the sales to stock up.
_________________________________________________________________
Soup Lunches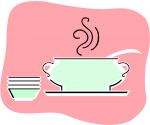 Soup lunches are a great way to meet fellow members or introduce a friend to the May Court Club. Why not carpool with a May Court friend in your zone, offer a ride to a new member, or bring a member you haven't seen for a while? Come for good company and interesting soups and sweets.  A choice of soup, bread, cheese and dessert, with tea or coffee is always offered. 
The soup lunches are held on a Friday at noon, and the dates for 2018-2019 year are:
October 26, November 23, January 11, February 8, March 15, April 12, May 17.
To reserve a place call the Club Secretary (613-733-4681) by the previous Wednesday and pay $5.00 at the door.
________________________________________________________________
Past Events 2018-2019
The Spring General Meeting and Luncheon was held on Wednesday, March 6, 2019.
The Member's Christmas Lunch was held on Thursday, December 6, 2018, and allowed members to chat and catch-up and enjoy the festive season.
Homes for the Holidays, a fundraiser for the Hospice, took place on November 16-18, 2018.

The Aberdeen Artisans Committee held the 3rd Annual Christmas Craft Fair on Saturday November 10, 2018. It was a very successful and joyous event.
The Association of May Court Clubs of Canada Meeting was held on October 26-27, 2018 in Oakville.
The May Court Fall Bridge and Luncheon was held on Thursday, October 18, 2018.
The Fall General Meeting and Luncheon was held on Wednesday, October 3, 2018 at 11:00.
The Munch and Learn Committee hosted a most enjoyable High Tea on Saturday, September 29, 2018 at The Club.
The Bargain Box General Meeting for shop staffers was held on Wednesday,September 19, 2018.
The opening luncheon for the Round Robin Bridge at the Club was held on Tuesday, September 18.
_________________________________________________________________